Class Information
The Library is currently closed due to COVID19 restrictions.
PE is on Wednesday and Friday, please come to school wearing PE kit.
Click here to view Class Timetable.
Welcome to Willow Class. We are a mixed Foundation Stage and Year 1 class. Our class teachers are Mrs Nicholson and Mrs Robinson, supported by Mrs Sumner, and Mrs Morrison.
Willow Class will be thinking about 'Amazing Animals'.
We will be starting in the coldest regions of the world, looking at the animals and how they live in the cold. There are many different species of penguin, so the children will be discovering all about them and where they live.
The children will move onto the wettest regions in the world, and explore some rainforest animals. Our focus artist, Henri Rousseau, will inspire us to draw and camouflage tigers and other creatures.
Then the children will continue to explore our world and find out about the hottest and driest regions on our planet.
As we learn more about the habitats in the world, the children will be thinking about the conservation of our amazing planet and the animals who share it with us.
Our books will be a mixture of stories and non-fiction this term, focusing on word choices and information styles.
In RE, the children will be finding more about specialness in Christianity and Judaism in the first half of term. Then the class will be sharing stories about people who Jesus met, and the importance of these stories for Christians.
In Science, we will be looking at variation and adaptations in animals. We will be classifying animals into groups according to their features.
The Y1 children will be exploring textiles through puppet designs and making a penguin puppet.
Our SCARF lessons will be focusing on 'Being My Best', helping the children to learn resilience and healthy habits.
Click on the link below for recent events:
Click on the Events pencil or Friends for more.
Events Archives 2019-2020
Events Archives 2018-2019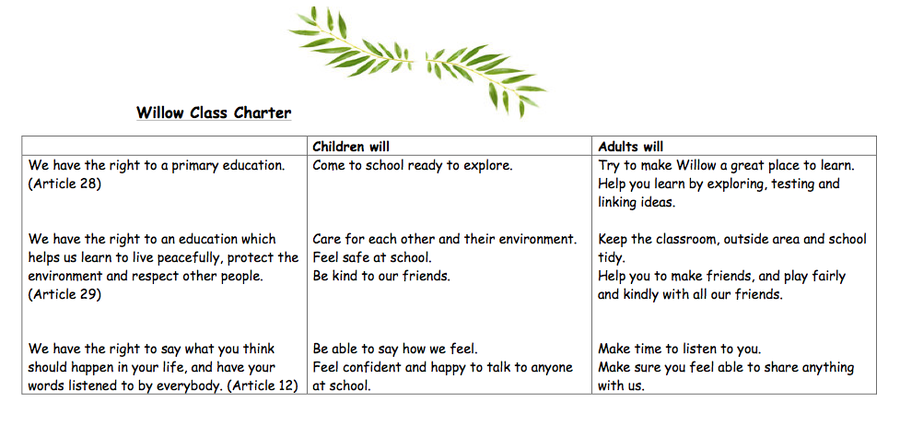 Willow class have been learning all about Antarctica. We are especially interested in penguins.
The children have been singing and dancing with penguins. We love tobogganing and waddling!
The class looked at life-size Emperor penguins, chicks and eggs, and used our Art skills to make some more eggs and penguins.
The children made a home for Penguin Small out of 'ice' crates as he couldn't swim home.
Swimming lessons were a great idea in our water tray and showed Penguin Small how to keep safe. Watch out for the orca!
Our spotter's guides helped new explorers and scientists find Antarctic animals and birds.
The Year 1 children made paper penguin puppets to start their DT project to use 'templates and textiles'. Look out for their final puppets and the adventures they are going to have with a snail and a whale too!